Films Printing Egao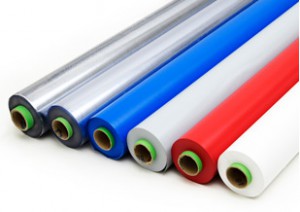 Egao films are characterized by ease of thermoforming and welding and allow the printing of all the techniques. We offer both soft film role, as well as hard sheets. We have a wide range of thicknesses and colors and the most commonly used structures.
Specification
PVC – foil soft and hardcover, available in sheet and on the land,
APET – to guarantee the highest aesthetic standards, we thickness 12-150mic,
rPET – having a thickness of 200-1000mic.
GAG PET film highly transparent, easy to process, available in sheets.
Properties
the ability to create different shapes in the process of thermoforming and welding
the ability to print a variety of techniques (offset printing, flexografia, screen printing, etc.).
available colors: transparent, white, gray, red, blue
stiffness varies depending on the application
Depending on the structure of the film is packed in sheets or wound on a roll.
Folie EGAO w arkuszach

Grubość [mic]  

Wielkość arkusza [mm]

Rodzaj

200
700 x 1000
transparentna, błyszcząca
200
700 x 920
biała matowa
300
700 x 1000

transparentna błyszcząca

300
700 x 920
biała matowa
Folie EAO Gna roli

Grubość [mic]  

Szerokość [mm]

Długość (m)

Rodzaj

90
1400
240
transparentna błyszcząca
transparentna błyszcząca / orange peel
140
1400
150
transparentna błyszcząca
200
1400
105
transparentna, matowa
300
1400
65
biała matowa
czerwona matowa
niebieska matowa
szara matowa
300
1400
70
transparentna błyszcząca
Pozostałe kolory, grubości i szerokości, dostępne są na indywidualne zamówienie
Our foil have certificates authorizing the use of it in the food industry.
Application:
production of plastic PVC:
packaging and advertising products
Packaging for storing various products – including foodstuffs and cosmetics
covers for books and notebooks
business card holders, folders, binders
pouch for documents, plastic cards and CDs
notebooks, pencil cases, calendars, albums, etc.